Proper Lighting for slit lamp photography
You get everything you need in the basic package. However there is an important upgrade for dry eye and ocular surface disorders


Every EyePhotoDoc™️ comes complete with an illuminator.
Proper lighting is essential for all photography. Most professional photographers spend more money on lighting than their cameras!  We offer an essential state-of-the-art  illumination system for no-compromise photography at a fraction of the cost charged by slit lamp manufacturers.
    
Two important points: 
1. The slit light needs background illumination to avoid a grainy photo.
2. More than half of all photos require full field illumination without the slit.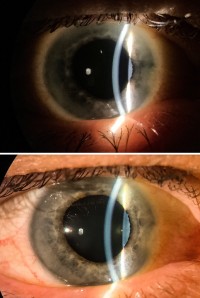 Advantage of essential illuminator
Best lighting for slit lamp photography
The Essential illuminator: 

The illuminator has a color-correct LED to avoid the 'purple skin' seen in other photographic systems. It also contains a cobalt blue light used for a better fluorescein examination. The light easily attaches to your slit lamp tower and permits turning the light for optimal shadowing. 
A special rheostat is used to adjust the intensity of the light for the best exposure value, giving professional quality images.    

This is an essential part of taking good slit lamp photos.
Complete EyePhotoDoc™️ package
Everything you need comes with the unit
The illuminator now comes with choices. The standard and the new and important Fluorescein Augmentation filter and Led Enhancer Exciter.  The new illuminator is designed especially for ocular surface disorders and tear film analysis. 
Illuminator
Eyephotodoc essential illuminator
The Illuminator contains a rechargeable battery and a special electronic system to optimize the light for the Apple camera.  It is contained in an assembly that is office friendly and cannot be easily broken. The units are included in each EyePhotoDoc system.  It is portable between scopes. 
Fluorescein Enhancement LED
New option. Fluorescein Exciter/concentrator  for tear film analysis
If you see many dry eye patients this is an important option. It allows photographic analysis of every detail of punctate stain and tear film flow. It has a slide in augmentation filter and special canthus to canthus fluorescein exciter. 
PhotoStation with collar
New option.    Photostation
Now each slit lamp can be set up that you only need to slide on the Eyephotodoc and the illumination source is there ready to go. It is a compact LED background illuminator that has no wires and has a brightness adjuster.