Easy to take high quality slit lamp photos using Apple™️ iPads and Smartphones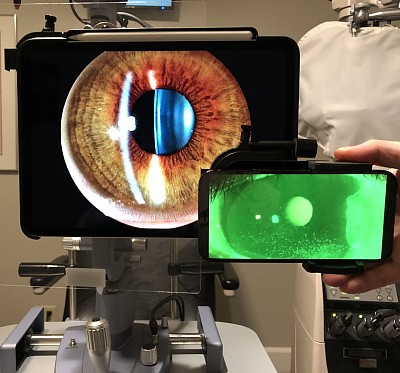 iPads or smartphones
 Eyephotodoc packages for iPads start at $975  smartphones for $595 including collar and Background illuminators!
We have revolutionized taking clinical photos.  Simply take a photo in a "minute" and put it into your EHR.  No beam splitters in the way degrading your image.  This is a complete package including EyePhotoDoc case,  Background Illuminator and eyepiece collar.  Everything you need to take an excellent photo!
Photos enhance our EHR charts as photos have done to books and magazines. Words simply do not describe findings as well as photos.  


Our DED videos are  revolutionizing diagnosis and treatment of this common problem.  
Amazingly the  Apple's camera automatically finds the optimal settings and the iCloud uploads your photo also into your Windows based computer.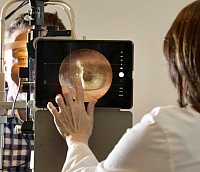 Clinical photo using EyePhotoDoc™️
No photographic experience is necessary to take slit lamp pictures.  
If you can take a picture on a phone you can take slit lamp photos. The image on the screen allows perfect composition.  This is a transformational device for daily eyecare.....
Look how easy it goes on and off!
FaceTime video demonstration

Schedule a free 30 minute FaceTime demonstration  with us in the contact section. We do them Tuesdays and Thursdays.  Experience the ease of use and quality of photos.  
The most advanced dry eye photography ever!
Photos can be used for diagnosis, and tracking treatment and in all your exam lanes
The EyePhotoDoc slit lamp camera is an inexpensive high quality camera adapter which is TRANSPORTABLE to all your exam lanes. You can now follow patients' findings using past photos in any of your lanes. It never slows you down since the adapter slides on and off in seconds.  Never move a patient for a photo.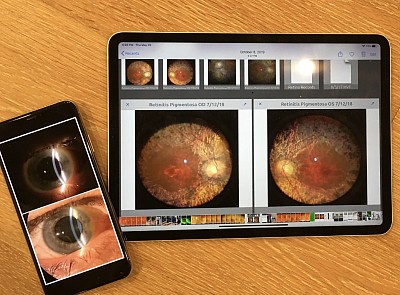 Use your iPhone or iPad to automatically place photos into your EHR
Upload photos to enhance your EHR through the iCloud
You can easily send photos to any EHR. They significantly improve your records. They are HIPAA  compliant through the free iCloud and uploads to Window's computers.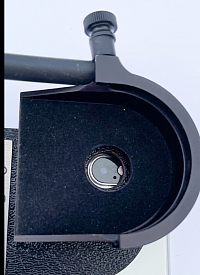 Universal receiver fits custom collars on your slit lamp
The EyePhotoDoc receiver fits on most scopes having our eyepiece collars. 
Simply use the same iPad or iPhone on any slit lamp ocular collar. To the  left is the universal receiver that fits over our custom collars. See below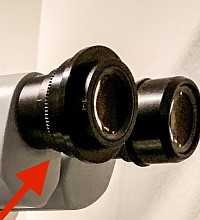 Custom eyepiece collars for Topcon, Haag-Streit, Marco....
Exclusive custom Eyepiece Collars for all your slit lamps
Our  system of custom collars allows most slit lamp to fit our EyePhotoDoc cases. 
A small custom collar is left on each slit lamp eyepiece to fit the Eyephotodoc receiver.
Click here to learn more.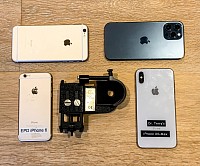 Slit lamp camera fits all smartphones
'Universal' smartphones Eyephotodoc only cases start at $395 and go up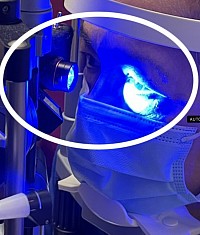 New LED Fluorescein wide field concentrator/exciter
Follow and treat ocular surface disorders with astonishing detail!
DED has numerous findings

. Word descriptions are not as useful as photos.   Our special Fluorescein LED exciter and yellow Wratten barrier filter blocks blue for superior visualization of punctate stain and tear film breakup time. 
See more photos on our Instagram page link below
Tap to see photos