Get great slit lamp pictures in all your exam lanes 
Corneal ulcer first day seen
Photos are no longer for unusual cases. They are so easy to take you can use them to follow progression from visit to visit. 
 The Apple camera with it ease of use and high quality photos has changed photography forever. The EyePhotoDoc eliminates  bulky beam splitters and being chained to only one exam lane.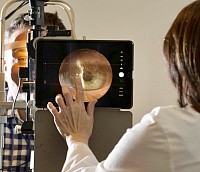 Clinical photo using EyePhotoDoc™️
Simply slide it on and take a photo
. The image on the screen is what you get!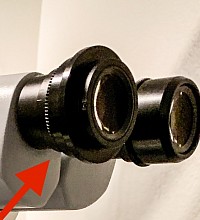 Custom eyepiece collars for Topcon, Haag-Streit, Marco....
Exclusive custom Eyepiece Collars allows you to use your EyePhotoDoc™️ on any slit lamp 
A small custom collar is left on each slit lamp eyepiece allowing you to use one EyePhotoDoc™️ on all. 
If you own a BM or clone no collar is needed.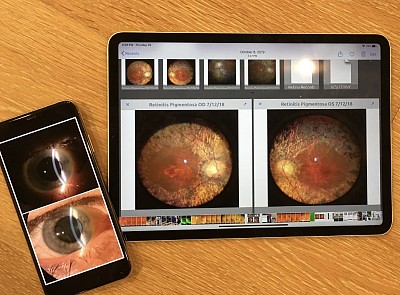 Use your iPhone or iPad™️
Professional quality photography from your iPad or iPhone
You can easily send photos to any EHR. They significantly improve your records. They are Hippa compliant through the free iCloud and uploads to Window's computers. Click or tap this hyperlink to find all the things The combination of the camera and computer can do!

The quality of the camera and computer algorithm is superb after 2 billion cameras!
Our 2000 users makes this the most  popular slit lamp camera worldwide. 
The combination of the Apple camera and miniaturized computer obsoletes most other photographic devices. The smart device can store, send and process photos. 
Use the hippa compliant Apple iCloud account on your Windows EHR
New LED Fluorescein concentrator/exciter
Diagnosis and treat ocular surface disorders with astonishing detail
Our slide in Wratten type filter show more detail than ever before. 
We developed a special LED Exciter and Full Field Concentrator.
 It will amaze you what you maybe missing.
Engage your patient
The highly detailed and life-like photo is the best explanation possible. Even the most basic things are better described with a photo 
EyePhotoDoc for iPad & iPhone was designed by eye doctors for eye doctors...don't confuse it with poor quality eBay adapters
See more photos on our Instagram page link below
Tap to see photos