Eyephotodoc iPad, iPad mini, or iPad Pro basic unit
Easy ordering 714 871-9221
Since we custom make the EyePhotoDoc to fit many slit lamps we recommend emailing us at Eyephotodoc.com. Please tell us the Apple device you will use and a picture of the slit lamp ocular and identify your scope. There is usually a plate in the front of the carriage.
Each additional scope requires an Additional eyepiece collar and light source. 
The wait for delivery is approximately 2 to 3 weeks. 
Basic unit with background illuminator and Dr Terry's photographic guide for physicians. 
iPad with Dry Eye option $1075 
This is a significant advancement in dry eye and ocular surface disorder diagnosis and follow up.  The Eyephotodoc has a slide in and out yellow filter and a special LED fluorescein exciter and concentrator. This capability and video shows lid and tear film coating like never before. 
1. Eyephotodoc IPad case of your choice
2. Collar for left eyepiece
3. Illuminator with special light with diffuse blue light with dimmer. 
4. Special clip to attach to light tower.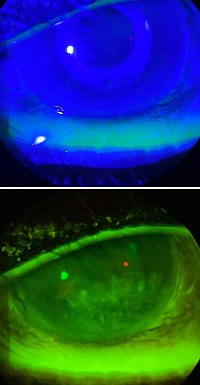 Comparison of standard blue light to the new Fluorescein Exciter filter
Advantage of the dry eye Concentrator
The standard blue light is not optimal for fluorescein visualization. Our special fluorescein LED exciter concentrates the light over the entire ocular adenexa. A yellow slide in filter increases contrast but to increase visualization it was made more intense. See the difference!
Each slit lamp can take photos with  a PhotoStations $325

If you have multiple slit lamps each will need an eyepiece adapter collar and a background illuminator.  It is always ready on the scope so it saves you time.  
1. collar for left eyepiece
2.Illuminator with special LED exciter /concentrator  with dimmer. 
3.Special clip to attach to light tower is included with photostation.