Additional  slit lamps eyepiece collars
Your EyePhotoDoc™️ can be used throughout your office
Take your camera with you and never have to move a patient. For only $150  each,  your EyePhotoDoc™️ is available on all your slit lamps. A must for EHR.   
Note: Haag-Streit non collar receivers can be used on the same series scope. Example all BM receivers will fit any BM but not BQ/BP etc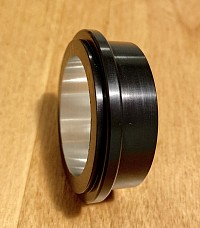 Eyepiece collars
Take photos on any slit lamp for $150 per collar. 
Collars can save $5,000 or more per room!
We make over 50 different collars all machined to hundredths of a mm. 
Tech note:The aircraft grade aluminum provides the proper focal distance,  centration and perpendicularity.