Slit lamp photos with iphones
Universal smartphone case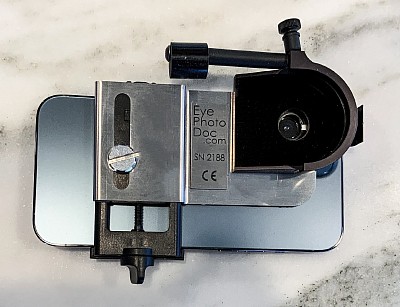 Universal smartphone adapter made of stainless steel and aircraft aluminum.
The clarity of any slit lamp photo is determined by the optics of the slit lamp. The ocular has the best possible image.  Our camera's remarkable images use the same high quality image your eyes see!   Our Universal Case can use your slit lamps' ocular forever. The iPhone cameras continue to evolve; while the expensive slit lamp camera brands becomes obsolete.   While all iPhones take excellent photos the iPhone 14 Pro has a stunning 48 megapixels. This is one of the best cameras and a bargain. Whenever you get a new smartphone you automatically upgrade your system. Latest iPhone advancements include high dynamic range, 4K video, advanced resolution, slow motion, in app editing etc
Note the basic "Universal"™️ needs a collar for each scope. The exception is for a single series of Haag-Streit slit lamps. 
Avoid obsolescence. Your smartphone has the latest cameras
Our new case allows you to use the latest smartphone photographic technology and apps. Avoid obsolescence by simply buying  the latest phone and we fit!. Over half our cameras replace the expensive 5 year or older expensive manufacturers cameras. Read online about professionals that use smartphones for movies. 
Smartphone packages with Dry Eye option $925
The package includes:  (Our most popular option)
1. Fits-all case with built in yellow gel filter which slides in or out
2. Dual light which can switch between background illumination and fluorescein LED exciter.  It has an intense  broad field bright exciter. All lights are on a rheostat. The light clips on your light tower and is recharged through a special included magnetic chord. 
3. Custom eyepiece collar
See and photograph the entire ocular surface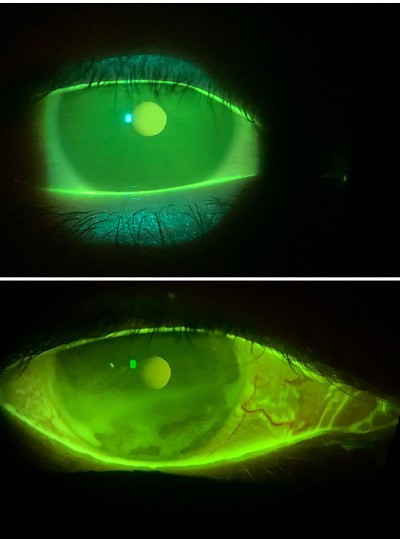 Extended field fluorescein for DED
The  wider fluorescein field shows you the entire surface. You can observe the tear film across the entire surface. 
Affordable Smartphones packages with Basic Illuminator $595 and collar
This is our entry level for external photos. It is pocket portable.  The photos are high resolution and can be sent to your EHR
1.  This includes the Fits all case
2. Rechargeable illuminator with rheostat and charging chord
3. Custom eyepiece collar
4. Installation instructions and Clinician's guide to professional slit lamp photos  
You can easily fit any of your other scopes with a custom eyepiece collar. 
This is the best aspect of our product. You can use any multi eyepiece-collar receiver on any scope and have a first class light source very economically! Rings are custom made and polished.
.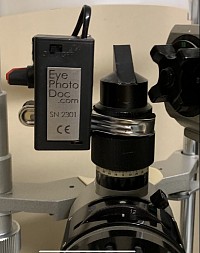 Portable side illuminator for Topcon, Zeiss, etc
Zeiss style bottom light clip
The new stainless steel clip allows easy transport between all slit lamps. Infinite light angles are possible. 
$40 for adapter 
Click the link above to get specific information
Light fits all slit lamps
This included clip allows an ergonomic photographic light attachment. 
What iPad to use?  The best are the iPad Pro 11 series, Air 4 or 5 and Mini 5 since they have a 12 megapixil cameras. The most cost effective are the iPads 6,7,8.but have only an 8 megapixel camera. 
Will it fit all the slit lamps in my office?  Yes that at the heart of usability. The custom eyepiece collars fits most slit lamp!
Do you prefer an iPad or iPhone?  Either takes great pictures. The iPad is easier to compose a photo because of the enlargement of the screen. It also shows more detail to show the patient. The phone is the most compact. 
What are the advantages of an eyepiece camera over a beam splitter?  Beam splitters steal light both from the camera and the doctor degrading the image. Eyepiece cameras allows 100% of the light and gives a better view to both the doctor and camera. 
How good is the Apple camera?  Beats most slit lamp cameras!
Please call with questions