Apple™️ Tech is now disrupting the entire slit lamp imaging sector. 
The sensational new iPad with 12 megapixel cameras!
 IPads  start at $850 and iPhones for $395
Photos are no longer used for exotic findings.  They enhance our EHR charts to improve following of clinical findings. Words simply do not describe things as well as photos.  
As a practicing clinician and photographer I have developed a system making it as easy as possible to take photos on most slit lamps. It allows the photo to go into your EHR aiding in follow up. It revolutionizes DED diagnosis and treatment follow up. Read on…  

The latest Apple™️ Devices have 12 megapixel cameras and automatic high dynamic range. The EyePhotoDoc attachment goes on and off the slit lamp in seconds. The screen allows simple yet accurate composing of photos. The image quality and convenience  is unmatched.  
You do not have to know anything about cameras.  
If you can take a picture on a phone you can take slit lamp photos. The image on the screen allows perfect composition.  This is a transformational device for daily eyecare.....
Look how easy it goes on and off!
FaceTime video demonstration

Schedule a free 30 minute
FaceTime
 demonstration  with us in the
contact
section. We do them Tuesdays and Thursdays.  Experience the ease of use and quality of photos.  
Technical advantages of Apple™️ powered eyepiece cameras
The highest quality image possible is through the expensive eyepiece. Previously, the slit lamp companies used  resolution reducing optical path beam splitters. Most are always in the way!  Our camera easily goes on and off and never obstructs your examination. Since it is powered by Apple's digital computer algorithms your photos are better than other DSRL cameras.  
The most advanced dry eye photography ever!
Photos can be used for diagnosis, and tracking treatment and in all your exam lanes
The EyePhotoDoc slit lamp camera is an inexpensive high quality camera adapter which is TRANSPORTABLE to all your exam lanes. You can now follow patients' findings using past photos in any of your lanes. It never slows you down since the adapter slides on and off in seconds.  Never move a patient for a photo.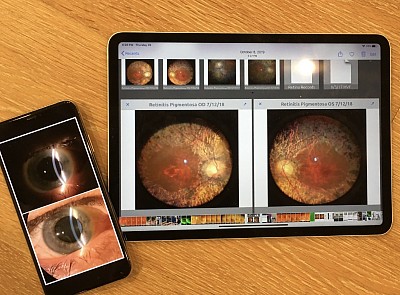 Use your iPhone or iPad™️
Upload photos to your EHR through the iCloud
You can easily send photos to any EHR. They significantly improve your records. They are HIPAA  compliant through the free iCloud and uploads to Window's computers. Click or tap this hyperlink to find all the things The combination of the camera and computer can do!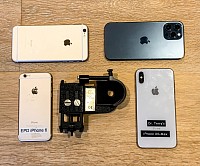 Slit lamp camera fits all smartphones
'Fits all' smartphones Starts at $395
We have added a new 'Fits All' smartphone case.  Almost any medical staff members smartphone will fit.  The case should be compatible with future phone upgrades. Click blue print above for more info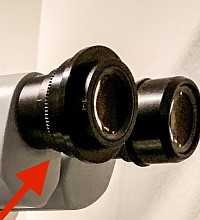 Custom eyepiece collars for Topcon, Haag-Streit, Marco....
Exclusive custom Eyepiece Collars for all your slit lamps
Our fabulous system of custom collars allows every slit lamp to take photos for $150 with our cases
.   A small custom collar is left on each slit lamp eyepiece to fit the Eyephotodoc case. The collar holds the camera at the exact focal length and ocular alignment. We sell collars for most slit lamps. Click here to learn more. This amounts to convenience and savings. They are made of aircraft aluminum to .01 mm tolerances and the reason cheaper plastic adapters do not work well.   
 All Haag-Streit slit lamps have their own direct fitting receivers that do not require a collar if used on the same series scope. 
New LED Fluorescein concentrator/exciter
Follow  and treat ocular surface disorders with astonishing detail
DED has numerous findings
. Word descriptions are not as useful as quantitative photos.   Photos allow following punctate stain, video  tear breakup time,  meibomian glands morphology, video lid function etc   The LED exciter/concentrator and yellow barrier filter with video show more detail than ever before.  Highly recommended if you do not have a slit lamp yellow filter. More
See more photos on our Instagram page link below
Tap to see photos