Take  high quality slit lamp pictures in all your exam lanes with one EyePhotoDoc including the retina!
Corneal ulcer first day seen
Photos are no longer for unusual cases. They are so easy to take you can use them to follow progression from visit to visit. 
Most doctors come onto our site looking for a high quality camera. Our device is much more than that. It is all about improving clinical care.
All patient's findings can be quickly photographed and followed with exact photos. 
These are not 'eBay' adapters but are professional grade and used in university clinics because of their quality.   
Read the web site to see the many other advantages. You will discover one EyePhotoDoc can be used in all your exam lanes, the  camera is easy to use,  and you have the ecosphere of Apple apps including the free upload to you EHR.   
Over half of our users are replacing their existing slit lamp cameras. 
Our cameras do more.  We now have a lens holder to photograph the retina.(see below)  
We also make two iphone based innovative devices which include a portable video slit lamp which can be used anywhere including the hospital, nursing care facilities or the urgent care center.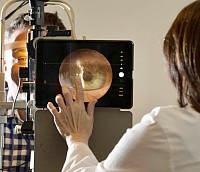 Clinical photo using EyePhotoDoc™️
Simply slide it on and take a photo
. The image on the screen is what you get! This is a transformational device for daily eyecare.....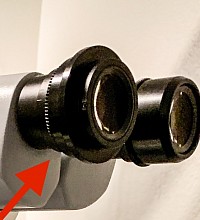 Custom eyepiece collars for Topcon, Haag-Streit, Marco....
Exclusive custom Eyepiece Collars for all your slit lamps
A small custom collar is left on each slit lamp eyepiece to fit the EyePhotoDoc receiver. We sell collars for most slit lamps. Click here to learn more. This  allows the use of a single EyePhotoDoc™️ In all your rooms. This amounts to convenience and savings.  One is included and each additional collar is only $150
All
Haag-Streit
slit lamps have their own direct fitting receivers that do not require a collar if used on the same series scope.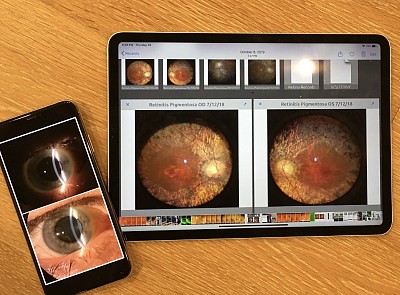 Use your iPhone or iPad™️
Upload photos to your EHR through the iCloud
You can easily send photos to any EHR. They significantly improve your records. They are Hippa compliant through the free iCloud and uploads to Window's computers. Click or tap this hyperlink to find all the things The combination of the camera and computer can do!

Optic nerve image with Eyephotodoc
Now take fundus photos!
We developed a new lens holder allowing you to use your own slit lamp lens. It inserts into the standard focusing rod channel and tracks up and down and side to side. It frees up your hands to focus the  pictures, or hold the eyelids. A must have! Photo is an example using the Volk Lens 
introductory price $195
The quality of the camera and computer algorithm is superb after 2 billion cameras!
Our 2000 users makes this the most  popular slit lamp camera worldwide. 
The combination of the Apple camera and miniaturized computer obsoletes most other photographic devices. The smart device can store, send and process photos. 
New LED Fluorescein concentrator/exciter
Photograph and treat ocular surface disorders with astonishing detail
See punctate stain tear and film spread that you might have missed. The LED exciter/concentrator and yellow barrier filter with video show more detail than ever before.  Highly recommended if you do not have a slit lamp yellow filter. More
Engage your patient
Using patients photos is a very powerful tool. 
The highly detailed and life-like photo is the best explanation possible. Even the most basic things are better described with a photo 
EyePhotoDoc for iPad & iPhone was designed by eye doctors for eye doctors...don't confuse it with poor quality eBay adapters
See more photos on our Instagram page link below
Tap to see photos