Our Apple™️ based slit lamp photography is superb, portable and more convenient than any other slit lamp camera!
Corneal ulcer first day seen
Apple photos and videos are publication quality and are easy to take. 
All state-of-the-art practices benefit from our exclusive 
Clinical-Snap-Shots
to follow punctuate stain, blepharitis and all clinical findings!  
Click or tap for pricing
2000 users makes this the most cost effective and popular slit lamp camera worldwide.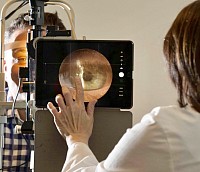 Clinical snap shot using EyePhotoDoc™️
EyePhotoDoc™️ can be used in all exam lanes
Simply slide it on and take your photo. The image on the screen is what you get
Use your iPad or iPhone
Professional quality photography for iPad or iPhone
Use the hippa compliant Apple iCloud account on your Windows EHR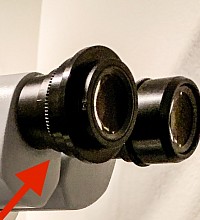 Custom eyepiece collars for Topcon, Haag-Streit, Marco....
Exclusive custom Eyepiece Collars allows you to use on any slit lamp 
A small collar is left on the Eyepiece to allow all slit lamps to use one EyePhotoDoc™️.  However if you have only type of Haag-Streit slit lamp we make an EyePhotoDoc™️ that does not need a collar and will fit the same series. 
Engage your patient
The highly detailed and life like photo is the best explanation possible. Even the most basic things are better described with a photo 
New LED Fluorescein concentrator/exciter
Diagnosis and treat ocular surface disorders with astonishing detail
Our slide in Wratten type filter show more detail than ever before. 
We developed a special LED Exciter and Full Field Concentrator.
 It will amaze you what you maybe missing.
EyePhotoDoc for iPad & iPhone was designed by eye doctors for eye doctors...don't confuse it with poor quality eBay adapters